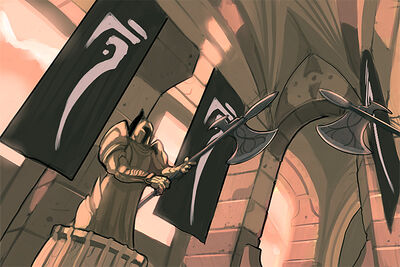 If in the town of Cajar, under the listing "West" you will see the link "Hall of Clans" Click that link then go to either "My Clan" which would be the one you are already in or "Make a Clan" which explains itself or "View Clans" which will take you to another page where all the clans are listed under which ever section the clan leader cared to place it, that being the farm, forest or cave, then there is "Applications".

Search through the clans, if you see one you like, fill out an application then click send. Wait for the owner to review the application then you will receive either an acceptance or a rejection in the mail, if accepted you will also see a clan chat to the left under "Communication" and a link to "My Clan" to the right under "Location".

You can leave a clan if wanted, one is never obligated to stay in the clan, if you don't like where you are or would just like to change clans all you have to do is leave the one your in and fill out an application for another then wait. Read the front page of the clans, see what they have to offer members.
Perks
Most clans have armories where you can borrow items and equipments.
Most clans also offer the Healing Pass which covers healing you after death at the Healing Tower in Cajar.
It's also a great way to make friends in the game.